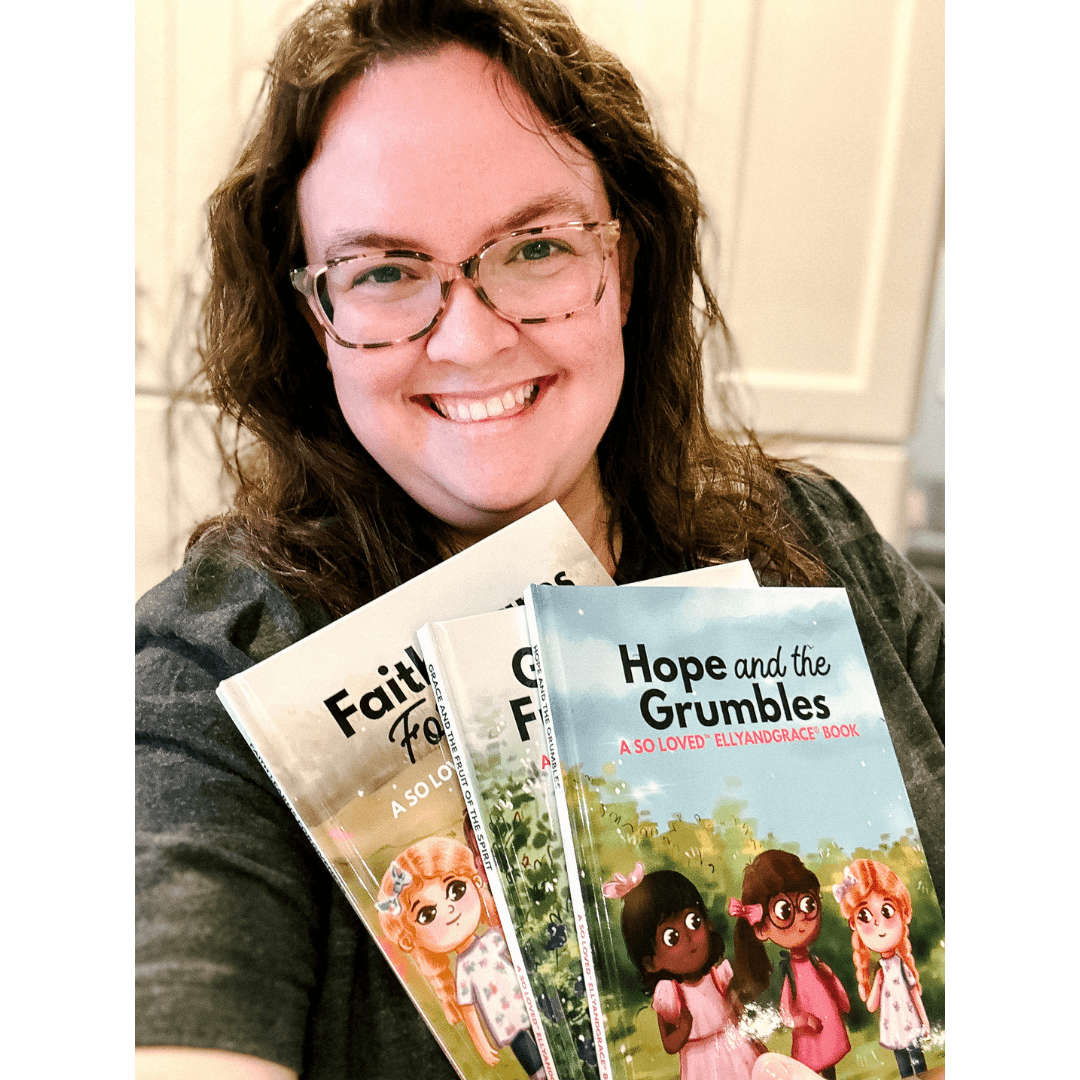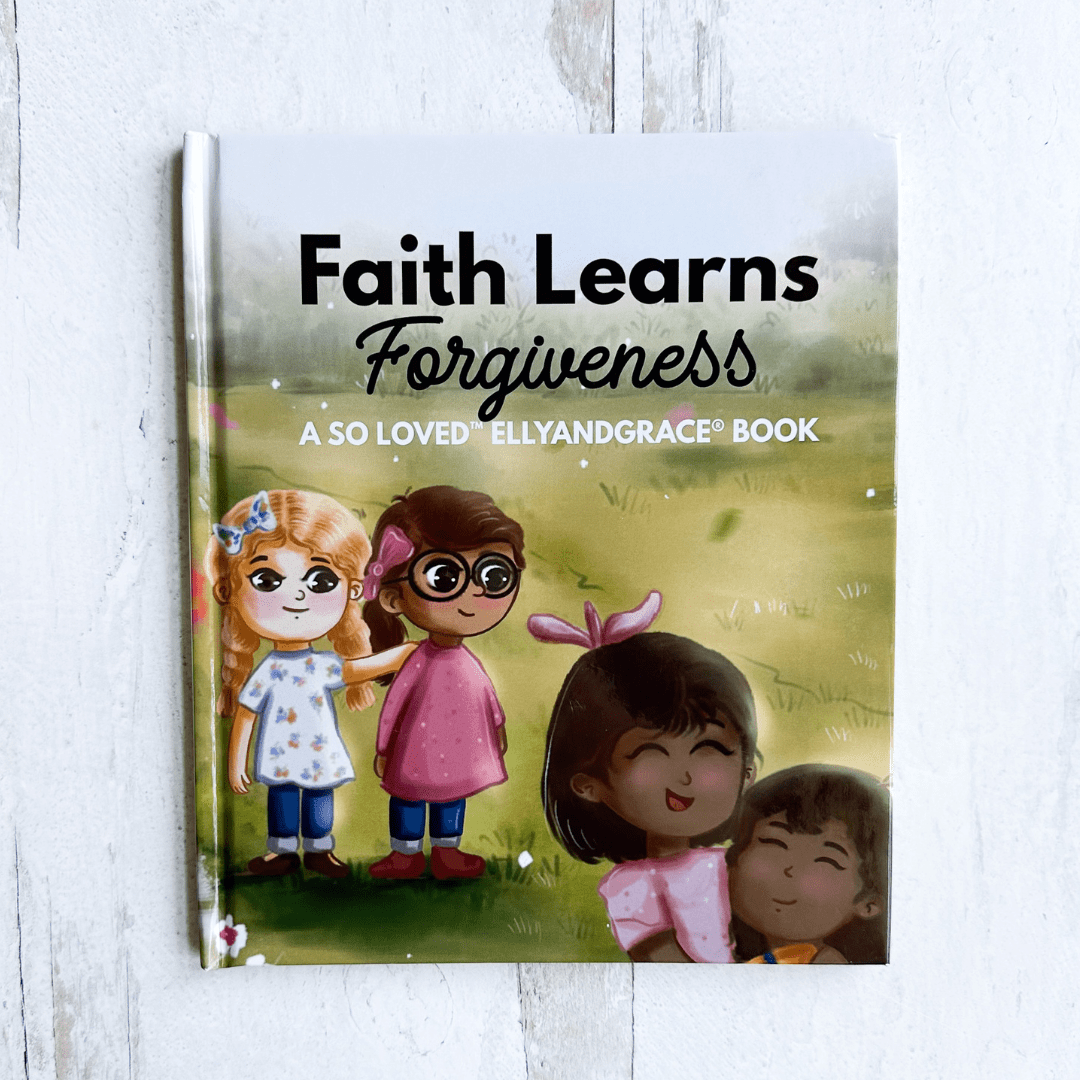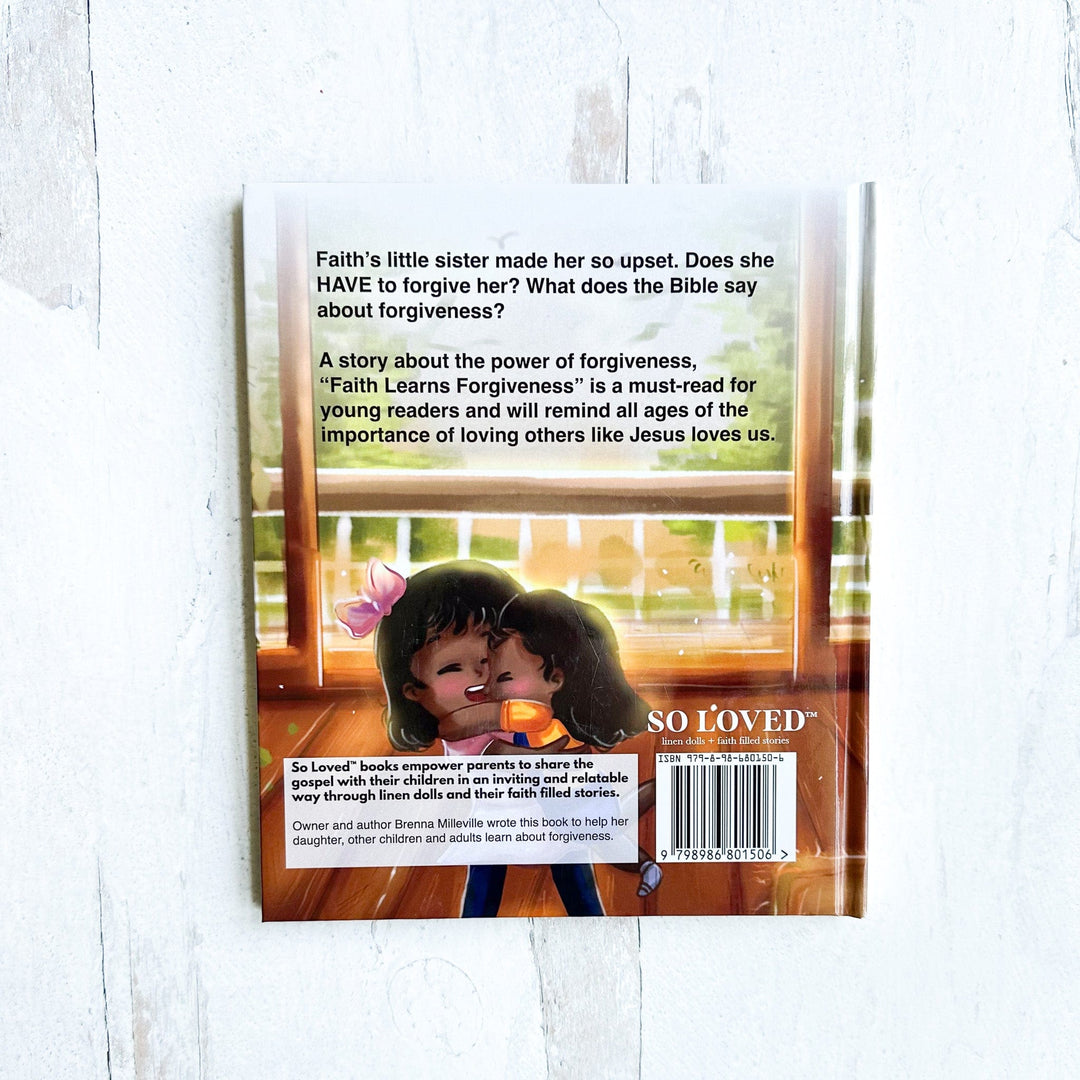 "Faith Learns Forgiveness" Book
ABOUT THE SO LOVED COLLECTION
The So Loved Collection, inspired by John 3:16, empowers parents, friends, and family members to share the Gospel with children in their lives in an inviting and relatable way through linen dolls and faith-filled stories.

A Message from Brenna, Founder:
We all have options about what we consume - whether it's the books we read, the toys we play with, the music we listen to, or the television we watch. Our hope in this series is this will be a resource in introducing core values in the name of Jesus and make conversations about relationships, unity, and love easier - no matter what circumstances look like. And I pray that this story creates the opportunity for meaningful moments about the Gospel and points you both to Jesus.

☑️  Written by Brenna, Founder of EllyandGrace & the So Loved Collection
☑️  Appropriate for Ages 3-10
☑️  Hardcover, 21 Pages
☑️  Shipped with Love from Missouri

Join Faith as she navigates the challenging emotions stirred by her little sister's actions. In "Faith Learns Forgiveness," readers are drawn into Faith's dilemma: Does she HAVE to forgive her sister? Seeking guidance, Faith turns to the Bible to uncover the profound wisdom it holds about forgiveness.
This must-read book resonates with young readers and serves as a poignant reminder to people of all ages about the significance of loving others as Jesus loves us. Through Faith's relatable experience, readers discover the transformative power of forgiveness and the healing it brings to relationships.
"Faith Learns Forgiveness" is not only an engaging story but also an educational resource that draws wisdom from the Bible's teachings on forgiveness. It sparks conversations about the biblical principles of compassion, mercy, and grace, providing a valuable opportunity to deepen understanding and faith.
 Order deadline for Easter: March 27th, 2023
WHEN WILL MY ORDER SHIP?
Because we value the uniqueness and individual style of our customers, we don't make most of our shirts until they're ordered. Your order will ship between 4-10 business days after your order is placed (8-10 business days if it's during a sale or holiday). If you need something fast, please order from our Quick Ship section - all items ship within 3 business days! Make sure you choose the Quick Ship color and priority mail! 

HOW DO YOUR SIZES RUN?
We have ladies fit and unisex fit styles. Please check the size chart below to ensure the perfect fit for you! Measure a shirt you love at home, and keep your measurements - those will help you find the right size in all of our styles! 

HOW IS THIS PACKAGED FOR SHIPPING?
We send each order neatly wrapped in tissue paper, along with a business card, thank you card, and inspirational postcard to pass along to a friend or keep for yourself. We appreciate our customers so much and feel this is a small way we can make them feel special!
Have questions? We're happy to help! 
>> 636-229-1617 or hello@ellyandgrace.com
We hand make each shirt design, and all the other items are crafted and shipped directly to you from Missouri. Shirts take on average 6-10 business days to be shipped. During the holiday season, you may see up to an additional 1-2 day delay.
After that, shipping takes 4-6 days, but you can choose priority shipping at checkout. (this does not affect processing time)
If you have any questions about the status of your order, please email hello@ellyandgrace.com
Thank you for shopping small! 
Please note- all international orders are taking on average 6-8 weeks to reach their destinations. We appreciate your patience. 
We know buying online can be difficult! So, we offer exchanges of unworn/unwashed apparel as long as the size or color is still in stock, within 15 days from the delivery confirmation date. 
You have 2 easy options:
1) Store Credit
Is it the wrong color, style or size? Let us know, and we will send you a store credit for the products you purchased (shipping costs are nonrefundable). We will also send you a free return shipping label. Once we receive your unworn/unwashed shirt(s) with the tags still on, we will send you your store credit. The deadline to request store credit is 15 days from the delivery confirmation date.
There is a maximum of 2 exchanges with store credit per order.
2) Refund
Can't find something that will work? We will refund payment method for the item(s), minus a $5 restocking fee per item purchased and the cost of return shipping. We will also send you a return shipping label. Once we receive your unworn/unwashed shirt(s) with the tags still on, we will send you your refund. The deadline to request a refund is 15 days from the delivery confirmation date.
Please note that "last chance" and sale items/grab bags are final sale and are not eligible for returns.