5 Ways to Share Your Faith in a World That Doesn't Want to Hear It
  By Founder of EllyandGrace, Brenna  
We live in crazy times, friends. 
I say that, but then again, really any time in history has its own struggles and stressful events. During the chaos (and the calm), we are called to be God's hands and feet. 
We, the Church, are called to show and share God's love with others. However, a lot of times, people aren't in a mindset where they're ready to receive. 
So, how do we share our faith without being too pushy? 
How do we share the love of Jesus with those who might not want to hear it? 
Ever heard the phrase "actions speak louder than words"? That's so true when sharing the Gospel. It starts with our actions...our love. After chatting with our EllyandGrace community, we've compiled a list of tangible ways you can share your faith. 
Here are 5 Awesome Ways to Share Your Faith: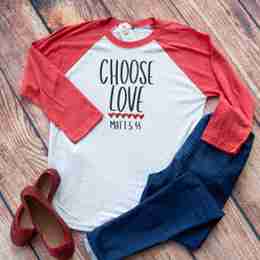 2.

Choose love in your day-to-day life.

How do you respond in the face of adversity? People are always watching, and as Jesus followers, we are to be set apart. Reflect the Fruit of the Spirit (love, joy, peace, patience, kindness, goodness, faithfulness, gentleness, self-control). People will start asking what's different about you, and it'll open that door to share how God has worked in your own life. 
I founded EllyandGrace to make it easier to Share Your Faith...even if you're an introvert like me!

EllyandGrace Clothing exists to Uplift, Inspire, and Point Others to Jesus. All of our clothing is printed and shipped right from Missouri and hand designed by me, Brenna! We  use the highest quality fabric and the softest prints to make it easy, comfortable, and fun to share your faith with everyone you encounter!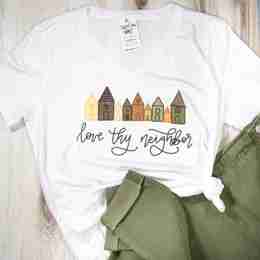 4.

Serve your community.

Our communities are hurting; there are lots of ways to serve. Don't be afraid to jump in to help an organization that could use an extra hand or join friends to meet a need. Meeting the needs of those around you allows God to use you as a vessel to bless others. You will find so many opportunities to serve if you seek them!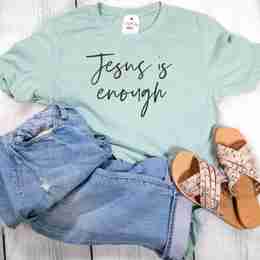 5. 

Share inspirational content on your social media.

People are slammed with so much negativity and drama in their feeds every day; here is a great chance to be set apart. Fill your feed with positive content: your favorite verses, sayings, songs, or clothing that inspires you and shares the love of Jesus. 
Ready to share your faith while being super comfortable?
Check out some of our Bestselling Shirts
What women are saying about us...
"I ordered a shirt recently with one of my favorite bible verses. It was delivered quickly and fit perfectly. I am dealing with a terminal cancer diagnosis and had mentioned this to Brenna, and when I received the shirt, it came with a handwritten note that they were praying for me. The shirt, the note and the prayers brought a huge smile to my face! EllyandGrace is an excellent company, and you will love their clothes!"
Judi, Oklahoma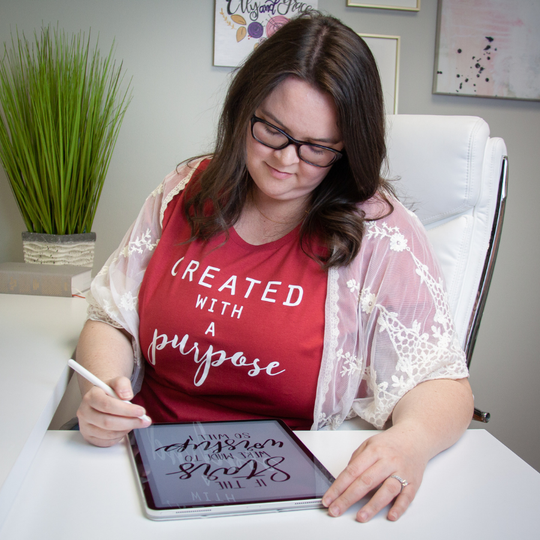 Meet the Founder
Hello! I'm Brenna, owner and founder of EllyandGrace. I love using my God given talents to create beautiful Christian designs on the comfiest clothing to help you Share Your Faith every single day to every person you meet... all without saying a word!
Our Missouri team hand prints, ships, and wraps every single shirt with love, made just for you!
Thank you so much for supporting our small business. I pray you find our products inspirational and love wearing them everywhere you go!
Meet the Team
Our Missouri team hand prints, wraps, and ships every single order individually, just for you! We love printing products that help inspire and point others to Jesus. 
Our Faith Based apparel is the softest and most comfortable you have ever worn! We have over 20,000  FIVE Star Reviews ⭐️⭐️⭐️⭐️⭐️.
We love to hear from so many of our customers that the shirt they bought was a conversation starter or people stop them whenever they see them to tell them how they love their shirt!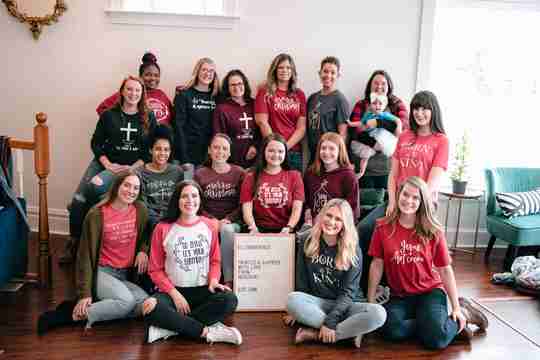 More of Our Favorite Designs
Uplift. Inspire. Point Others to Jesus.
Join our VIP Club for more Inspirational Content, Product Announcements, Giveaways, and Sales!